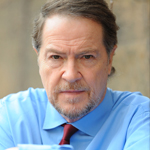 "Whether the mask is labeled fascism, democracy, or dictatorship of the proletariat, our great adversary remains the apparatus—the bureaucracy, the police, the military. Not the one facing us across the frontier of the battle lines, which is not so much our enemy as our brothers' enemy, but the one that calls itself our protector and makes us its slaves. No matter what the circumstances, the worst betrayal will always be to subordinate ourselves to this apparatus and to trample underfoot, in its service, all human values in ourselves and in others."—Simone Weil, French philosopher and political activist
We labor today under the weight of countless tyrannies, large and small, carried out in the name of the national good by an elite class of government officials who are largely insulated from the ill effects of their actions.
We, the middling classes, are not so fortunate.
We find ourselves badgered, bullied and browbeaten into bearing the brunt of their arrogance, paying the price for their greed, suffering the backlash for their militarism, agonizing as a result of their inaction, feigning ignorance about their backroom dealings, overlooking their incompetence, turning a blind eye to their misdeeds, cowering from their heavy-handed tactics, and blindly hoping for change that never comes.
The overt signs of the despotism exercised by the increasingly authoritarian regime that passes itself off as the United States government are all around us: warrantless surveillance of Americans' private phone and email conversations by the NSA; SWAT team raids of Americans' homes; shootings of unarmed citizens by police; harsh punishments meted out to schoolchildren in the name of zero tolerance; drones taking to the skies domestically; endless wars; out-of-control spending; militarized police; roadside strip searches; roving TSA sweeps; privatized prisons with a profit incentive for jailing Americans; fusion centers that collect and disseminate data on Americans' private transactions; and militarized agencies with stockpiles of ammunition, to name some of the most appalling.
Yet as egregious as these incursions on our rights may be, it's the endless, petty tyrannies inflicted on an overtaxed, overregulated, and underrepresented populace that occasionally nudge a weary public out of their numb indifference and into a state of outrage.
Consider, for example, that federal and state governments now require on penalty of a fine that individuals apply for permission before they can grow exotic orchids, host elaborate dinner parties, gather friends in one's home for Bible studies, give coffee to the homeless, let their kids manage a lemonade stand, keep chickens as pets, or braid someone's hair, as ludicrous as that may seem.
A current case before the Supreme Court, Niang v. Tomblinson strikes at the heart of this bureaucratic exercise in absurdity that has pushed overregulation and overcriminalization to outrageous limits. This particular case is about whether one needs a government license in order to braid hair.
Missouri, like many states across the country, has increasingly adopted as its governing style the authoritarian notion that the government knows best and therefore must control, regulate and dictate almost everything about the citizenry's public, private and professional lives.
In Missouri, anyone wanting to braid African-style hair and charge for it must first acquire a government license, which at a minimum requires the applicant to undertake at least 1500 hours of cosmetology classes costing tens of thousands of dollars.
Tennessee has fined residents nearly $100,000 just for violating its laws against braiding hair without a government license.
In Oregon, the law is so broad that you need a license even if you're planning to braid hair for free. The mere act of touching someone's hair can render you a cosmetologist operating without a license and in violation of the law.
In Iowa, you can be sentenced with up to a year in prison for braiding hair without having attended a year of cosmetology school.
It's not just hair braiding that has become grist for the overregulation mill.
Almost every aspect of American life today—especially if it is work-related—is subject to this kind of heightened scrutiny and ham-fisted control, whether you're talking about aspiring "bakers, braiders, casket makers, florists, veterinary masseuses, tour guides, taxi drivers, eyebrow threaders, teeth whiteners, and more."
For instance, whereas 70 years ago, one out of every 20 U.S. jobs required a state license, today, almost 1 in 3 American occupations requires a license.
The problem of overregulation has become so bad that, as one analyst notes, "getting a license to style hair in Washington takes more instructional time than becoming an emergency medical technicianor a firefighter."
This is what happens when bureaucrats run the show, and the rule of law becomes little more than a cattle prod for forcing the citizenry to march in lockstep with the government.
Overregulation is just the other side of the coin to overcriminalization, that phenomenon in which everything is rendered illegal and everyone becomes a lawbreaker.
This is the mindset that tried to penalize a fisherman with 20 years' jail time for throwing fish that were too small back into the water.
John Yates, a commercial fisherman, was written up in 2007 by a state fish and wildlife officer who noticed that among Yates' haul of red grouper, 72 were apparently under the 20-inch minimum legal minimum. Yates, ordered to bring the fish to shore as evidence of his violation of the federal statute on undersized catches, returned to shore with only 69 grouper in the crate designated for evidence.
A crew member later confessed that, on orders from Yates, the crew had thrown the undersized grouper overboard and replaced them with larger fish. Unfortunately, they were three fish short.
Sensing a bait-and-switch, prosecutors refused to let Yates off the hook quite so easily. Unfortunately, in prosecuting him for the undersized fish under a law aimed at financial crimes, government officials opened up a can of worms. Thankfully, the U.S. Supreme Court in a rare (and narrow) flash of reason, sided with Yates, ruling that the government had overreached.
Read More @ The Rutherford Institute-( https://www.rutherford.org/ )-  here