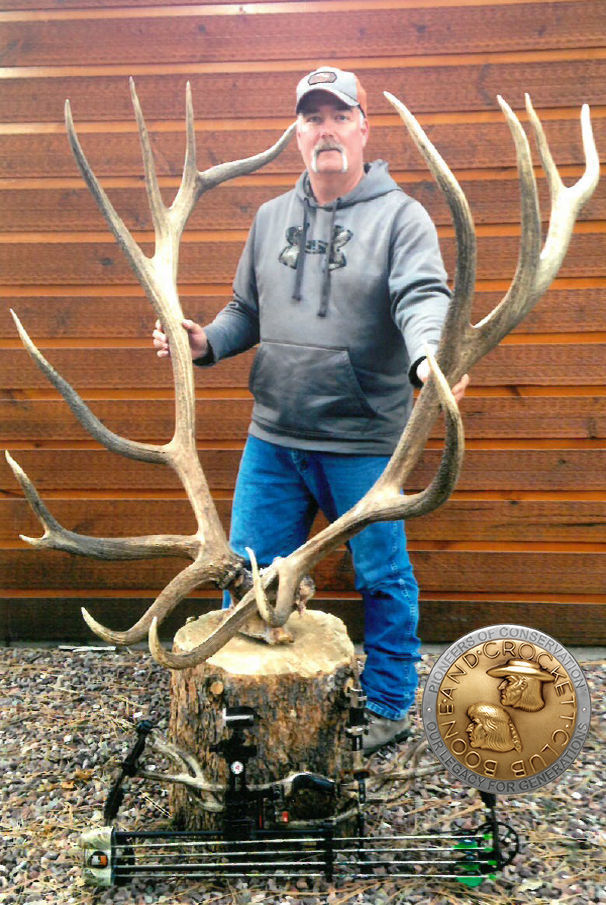 Most hunters get cagey when asked where they got their trophy elk, but Steve Felix doesn't balk.
"This was killed on public land," said the potential owner of the newest world record for typical American elk taken by archery. "It's a testament to great habitat and great management and the importance of public lands."
To be a little more specific, Felix brought down the 7×8-point bull in Powder River County, in the southeast corner of Montana. The Boone and Crockett Club has confirmed its rack scores 430 inches, making it the largest elk taken in the state and the fourth-largest ever recorded in the club's records. No. 1 scored 442 5/8ths, and No. 2 and No. 3 were both taken before 1900 – all with rifles. The current world-record archery kill scored 412 1/8, taken in 2005 in Arizona.
"History was made right here in Montana," said Justin Spring, records director at Missoula-based Boone and Crockett. "It's a milestone in the success of our commitment to this iconic species. Animals of this size do not happen by chance. It takes the combined commitment of wildlife managers and biologists, landowners, sportsmen and above all else, it takes the best habitats we can set aside for elk in elk country."
Felix, who lives near Seeley Lake, made the eight-hour drive to his hunting area solo in September when his regular hunting partner couldn't get away for the weekend. He spotted the bull early in the morning, and spent about an hour stalking it to get a shooting position.
A single arrow at 61 yards brought the elk down 30 seconds after he shot it. Approaching, Felix said he knew he had bagged the biggest animal he'd ever pursued. But he wasn't sure how big.
It took five backpack loads over two days to bring out the meat. At first, Felix hoped to bring out the antlers and skin in a single load.
"I got about 60 yards and said this is not going to work," he said. "It was just too heavy."
He stopped at the Cabela's store in Billings to compare his bull to some of the trophies hanging there.
"They had a rack that scored 400 there, so I took a quick look," he said. "Then I went back out to my truck and went, 'Oh, boy.'"
Realizing he had a contender on his hands, Felix next stopped at John Berger's taxidermy shop in Bozeman. After a preliminary measurement hinted the bull was in striking distance of a world record, they called Fred King, an expert trophy grader in the Gallatin Valley. In its fresh, "green" state, the antlers scored 440 inches. Montana's existing record was 412 inches.
Antlers shrink a bit as they dry. After 60 days, the final measurement totaled a net 430 inches. A final, official score for Pope and Young Club World's Record status will occur before a panel scored by a group of highly qualified P&Y and B&C measurers just prior to Pope and Young Club's Biennial Convention and Big Game Awards Ceremony April 5-8, 2017, in St. Louis, Missouri.
Felix said the hunting district doesn't have a trophy restriction like the popular Missouri Breaks or Elkhorn Mountain regions of Montana. But it did have great grass, healthy wildlife and public opportunity.
"I've spent a lot of time in that country," Felix said. "The first eight days I was there, I never saw an elk. That was the first arrow either my partner or I have ever shot there for elk."